Surdry simplifies the maintenance of industrial retorts
At Surdry, we offer clients all of our experience to simplify the maintenance of their industrial retorts. We work to provide state-of-the-art technologies with equipment that is made to last and requires low maintenance. Clients receive training and complete documentation, which enables them to benefit from their equipment. Our priority is to help our clients maximize their productivity with retorts of the highest quality and rapid response service.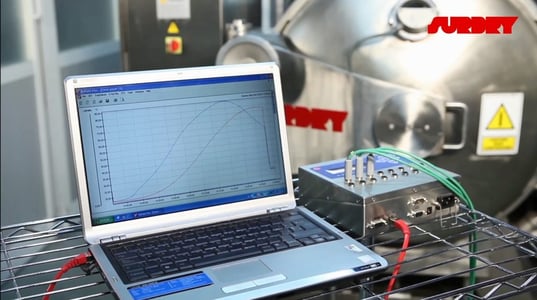 Retort design that guarantees durability
At Surdry, we manufacture industrial food and beverage sterilization equipment following the highest quality standards. Our equipment is designed to facilitate maintenance and offer long useful life.
To do so, we only work with high-quality materials. Surdry retorts are made out of stainless steel, thermally insulated with mineral wool, and coated with polished stainless steel. We also incorporate first-rate components with worldwide supply and services to guarantee a rapid response to any requirements.
Patented technology that guarantees low maintenance
The steam and water spray retorts patented by Surdry are now an industrial standard that brings many benefits. Concerning maintenance, this sterilization system ensures uniform temperature distribution through a process that requires minimum cleaning. In turn, it enables the consumption of steam and water to be significantly reduced and the times of each cycle to be shortened.
On the other hand, Surdry retorts are equipped with advanced and complete software packages. These systems supervise the functioning of the equipment in real-time and record all processes, providing data and graphs. Thanks to this, control tasks are simplified, and it is possible to detect any incident quickly. These records are supplied in formats accepted by the FDA and certification bodies worldwide.
Complete and quality training to guarantee proper operation
At Surdry, we offer our clients all of the necessary training to operate autonomously. At the same time, we guide responses to any queries, whether technical issues, maintenance, or questions related to sterilization processes.
We provide training in production, maintenance, and quality control. The sessions are held in-person, with high-quality audiovisual materials, and at the production plant. These courses enable staff to understand the characteristics of the machine and its functioning and the maintenance tasks that need to be carried out.
Support for the proper installation
Our technical team advises clients on the retort option that best suits their needs during installation. Therefore, we ensure that the equipment and utilities are installed following the operating conditions and the regulations.
Proper installation of the retort is critical to avoid subsequent problems in the equipment and to simplify maintenance tasks.
Advanced software and remote online assistance to facilitate preventive maintenance
Surdry retorts come with connected equipment software that enables maintenance tasks to be performed remotely. Our technicians offer a remote online inspection and repair service of the equipment's controls, providing a rapid response to incidents.
Via the internet, it is possible to carry out tasks such as installing software and control programs, updates, and troubleshooting.
Quality documentation that facilitates tasks
All of our sterilization equipment is accompanied by complete, detailed, and easy to use manuals. This document includes instructions to perform specific maintenance and cleaning tasks, depending on the machine.
At Surdry, we know the importance of high-quality manuals, as this information is essential for operators and technicians to carry out their work correctly.
Support in process improvement and search for production upgrading solutions
Our efforts are focused on offering products and services that increase our clients' productivity. To do so, we work on the continuous improvement of our technologies, and we have an expert team in the sterilization of food and beverages. We are committed to technologically advanced equipment and preventive maintenance systems, as this is the way to avoid performance problems and make the most out of our retorts.