In recent years, Surdry has experienced remarkable growth and successfully achieved its strategic objectives. This has led to an exciting phase of rebranding for the company, symbolizing the progressive evolution of our business. Our new website reflects our commitment to constant improvement and adaptability, marking the first strides into a future where we embrace change and innovation.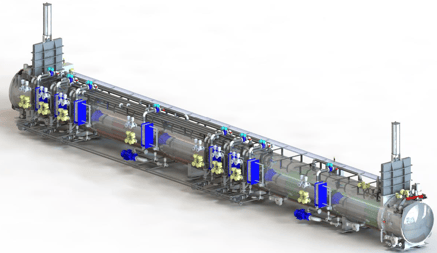 Embracing new horizons
In this new chapter of our journey, we aim to establish ourselves as the foremost provider of customized sterilization solutions for packaged food and beverages. Our mission remains unchanged: optimize production efficiency while ensuring the safe preservation of food, thereby minimizing waste and promoting sustainability.


A vision of progress
Our rebranded image mirrors Surdry's unwavering growth, adaptability and steadfast dedication to modernity. We want our clients to perceive this change as a reflection of our progress and tireless pursuit to remain at the forefront of our industry.
We are a modern and dynamic company, fueling progress and innovation to benefit our valued customers.


A website up to the mark
In harmony with our business renewal and evolution, we proudly present our new website. It has been carefully designed to provide the best experience to visitors.
We have incorporated a news and updates section on our website to ensure our audience stays up to date with the latest trends and advancements in the packaged food and beverage sterilization industry. Here, we share information on cutting-edge technological developments, successful case studies and significant events that we actively participate in.
We invite you to explore our new website and discover how our customized solutions can benefit your business. Our commitment lies in delivering a gratifying online experience and upholding our commitment to being your trusted partner in the sterilization industry.