Surdry can help you to keep your retort operation optimized
We are proud of sharing with you our know-how that collects the experience of nearly 40 years of exclusive dedication to sterilization processes. The purpose is to maximize your production rate. Our advice is not only present at the moment the retort is installed but also after its commissioning when it needs maintenance or dealing with any issue. When you become our customer, you get access to our on-site and remote assessment, detailed instruction documents, and precise training for your team. This is our strategy to get the optimum operation in your retort.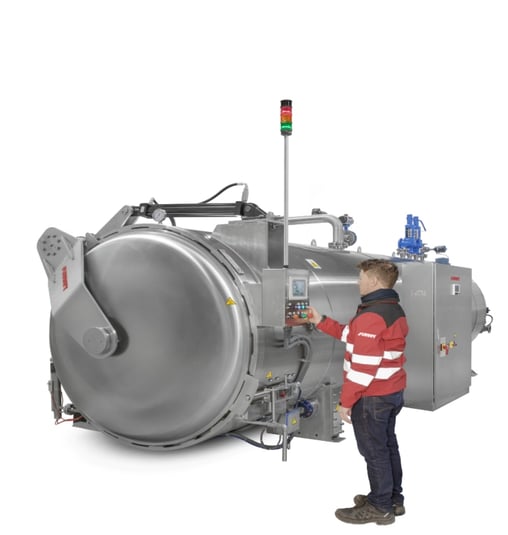 Instruction and installation supervision service
Our customers tell us that our people are like their own key employees. Our experienced team will guide you before and during the installation of the retort. Our engineers will give you advice during the whole preparation and installation process, focusing on the objective that your sterilization room is accurately dimensioned. This includes that all the equipment and utilities are correctly installed, according to the best industry practices as well as in compliance with local regulations.
Our post-sales team is not only specialized in the retort and sterilization process themselves but also in the global regulations. Besides, our retorts are always sent with detailed and user-friendly instructions so the installation and operation process is successful.
Thanks to these professional instructions and close assessment you will avoid making any mistakes during installation that could lead to safety issues or high operation and maintenance costs in the future. Some examples of mistakes that can be avoided are the lack of instruments to measure the quality of the utility supply, damages on the equipment over time, dangerous emissions, or human incidents caused by them.
Fast and high-quality maintenance support
During the operative life of your retort, you will have access to our assessment for remote or on-site maintenance. More than 90% of the issues can be solved remotely by connecting your retort to our server, and this is something our main customers are really happy with.
Even though our retorts are designed to have low-cost maintenance, when the production rate is demanding, we may recommend carrying out preventive maintenance that could reduce the likelihood of undesired stops. This is something that your team can perform on its own, thanks to our software features and our remote assistance.
Besides, you may be supported by high skilled members, present in Europe, North and South America, and Pacific Asia.
Training your team is the key to improve your production
During and right after the commissioning of the retort, your team (Operations, Quality, and Maintenance) will be trained on-site not only in a classroom but also on the field. Surdry's technicians are in charge of delivering these sessions, in English or Spanish. The training course is focused on daily operation and it is supported by high-quality resources as well as on-site monitoring while the retort starts its production.
Even though our retorts and software are user-friendly and easy to manage, we are convinced that the more efficient your team is trained the better will the results be, in terms of product quality, good maintenance, and high productivity rate. In this way, you will avoid making any mistakes or causing damages that could lead to unexpected stops.
Continuous assistance and permanent stock to avoid unexpected delays
At Surdry we give you access to a permanent stock of long lead time spare parts that can be shipped immediately from Europe or the USA. Besides, you may have the possibility of renting some key pieces if they are not in stock and their lead time is too long. All these features have the purpose of helping you to avoid any undesired stops and delays in your committed deliveries. If your customers are happy our goal is accomplished.
Since we use top brand components in our retorts, like valves, heat exchangers, electronic devices, and instruments, they could be easily acquired all over the world.
With our post-sales assistance, you will have access to our assessment on the phone or online to deal with any issue you may be having. The most important thing is that our initial remote assessment is free for life. This way of working is highly appreciated by our customers since it allows them to act as quickly as possible and recover the retort to continue the production.


Innovation to support your company's continuous improvement
We know that one of our customer's main goals is to optimize the production rate without compromising the product quality. Thus, we would like to share our experience and know-how to overcome any challenge you may have. Besides, you will also have access to our lab, equipped with a pilot multi-process unit and a Continuous Sterilizer prototype, so you can develop new recipes and innovate.
When it comes to innovation, we have implemented a technology tracking procedure that allows us to incorporate new innovative features in our retorts permanently. Thanks to that, and our know-how collected during 40 years, we have developed and patented our own technology for the sterilization of your food and beverages, becoming one of the top quality retort suppliers when technology demand is for premium equipment.