Advantages and benefits of Surdry as an industrial retort supplier
At Surdry, our priority is to offer our customers a quality service at competitive prices. As suppliers of retorts, we are committed to offering you highly reliable equipment based on the latest technology, guidance before, during and after installation, as well as a technical service offering a rapid response to any problem.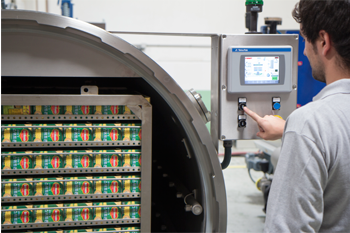 We offer you the following advantages:
Retorts of the highest quality at competitive prices

At Surdry, we are specialized in the in-house design and manufacture of retorts for the sterilization of food and beverages. During the processes, we follow the strictest quality standards, in terms of the design, welding, finishes, safety elements and control systems of the equipment.
We only use components from leading brands with international supply. This ensures the absolute reliability of the equipment, along with strict compliance with delivery times and the availability of spare parts anywhere in the world. At Surdry, we also extend the guarantee for components beyond that of the brands themselves and offer the best quality-price ratio on the market.
Guidance in installation and to address any customer needs
At Surdry, we offer guidance to select the equipment that best suits the needs of your company and we support you in the installation and commissioning of the retort. Our expert team will advise you in order to ensure that the entire installation and the supply of fluids work properly. We will also guide you in the commissioning and validation of the equipment through testing for the FDA, BRC and other food safety supervisory bodies and certifiers.
On the other hand, as suppliers, we place special emphasis on the prior training of operators and maintenance technicians responsible for the retort. To do so, we offer instructive sessions in Spanish and in English, supported by high quality audiovisual teaching material, as well as practical training at production plants.
Rapid and effective response from the technical team
At Surdry, we offer a post-sale technical service and guidance for preventive maintenance, as well as on-line support for the remote resolution of incidents, via remote access to the retort's control system. These services enable us to offer a swift and effective response to any problem anywhere in the world.
In order to avoid unscheduled stoppages, we have a permanent stock of spare parts and distribution centers all over the world. Furthermore, in the case of key parts with a long replenishment period, we offer our customers a rental service.
Cutting edge technology and a highly specialized team
The development of the steam and water spray retort, patented by Surdry, has led us to become technological leaders in the sector. This system, consolidated as an international industrial standard, offers many benefits related to its simplicity, versatility and robustness.
The steam and water spray technology ensures uniform temperature distribution, as well as rapid and homogeneous cooling of the packaging. Furthermore, the system offers high energy efficiency and requires minimum maintenance and cleaning operations.
Certification for distribution to any country in the world
At Surdry, we have the necessary certification and experience to respond to the legislative requirements in all countries worldwide. Our equipment includes the following certification:
ISO 9001:2008 in Quality Management Systems.
ASME (American Society of Mechanical Engineers) for the design, manufacture and control of pressure equipment.
CE Marking in compliance with European Directives on Pressure Equipment (PED), machinery, etc., as well as those related to Health, Safety and Environmental Protection.
FDA in compliance with the requirements of the Federal Food and Drug Administration in the United States.
China Manufacture License of Special Equipment.
Our equipment is designed and manufactured under strict quality controls in order to comply with all of the safety standards related to pressure equipment, as well as international food safety legislation.
Support for ongoing improvement and innovation in processes
An essential part of our work as a supplier is to help our customers improve their production processes. To do so, we offer product development services with pilot retorts and our team specialized in food technology and heat treatment is available to our customers.
We also have a rental service for the development of new products or to improve existing ones and we carry out energy consumption audits, including proposals to obtain greater energy savings.
Our task is to accompany you at all times, offering the equipment that best suits your needs and advising you throughout the production process, from product development to the retort's maintenance throughout its useful life. With this objective in mind, we offer you 40 years of experience in retort sterilization technologies for the food sector.